---
-The deadline for the child-care booking is passed!-
---
The 334 IAU Symposium offers the possibility of professional child-care, in a building located at the Geolino (webpage in German) just a few meters away from the conference room (Geolino – web-page in German). Deadline for booking: 15th March 2017.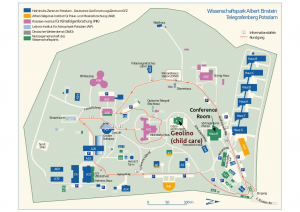 Offer:
Geolino offers two group settings, depending on the age of the child. One group consists of children ages 1 1/2 through 3, the other group has children aged 3 to 6 years.
Operation times of the daycare are from 8:00 am through 6:00 pm. Exact attendance times will need to be negotiated directly with the daycare representative, Mrs. Keila. Children can be dropped off between 8:00 and 9:30 am, and between 2:00 and 2:30 pm. Children in the group 1 1/2 to 3 years old can be picked up at 11:30 am; children in the group 3 to 6 years old can be picked up at 12:30 pm. Between 3:00 and 6:00 pm, kids can be picked up at any time.
Condition for enrollment:
an agreement for the care of a guest child will need to be signed (please let us know with your registration if you need child care services and we will send you the form. You will need to fill in the form and send it back to us as soon as possible, otherwise we cannot guarantee care. These forms will then be held by Mrs. Keila at the daycare facility and she will have them ready for you to sign upon arrival).
a recent doctor's note, confirming that the child is healthy and fit to attend daycare.
Children are expected to bring their house shoes and weather appropriate clothing. Please note that the daycare is not handicapped accessible.
The daycare charges 12 € per child / per day. Lunches are catered and cost 3,10 € per meal. Meals can be ordered directly through Mrs. Keila on the first day of enrollment. Payment for the daycare service and the lunches is due in full (cash only!) on the first day of enrollment.
---
If you have children older than 6 years old, for whom you would like to arrange care / oversight, please contact the LOC for special arrangements.
---
Please let us know if you will need child care as soon as possible (before the first payment deadline) so that care can be assured and the necessary arrangements can be made.
For further information and special requirements contact the LOC at iaus334_loc-at-aip.de .